WordPress is one of the most popular website builders that writers and authors use. It provides authors with the freedom and flexibility to create their own websites to increase their digital presence and connect with readers.
As a writer/author, you want to have a website that offers a great reading experience to your readers so that they can connect with you and buy your books. If you're looking for an easy way to achieve that, then Bookwise by Thrive Themes is what you need.
In this Bookwise review by Thrive Themes, we'll show you why Bookwise is the best author WordPress theme. We'll also discuss how you can use it to create your website which will help you display the meaning behind your stories and words.
What is Bookwise: Introduction
Definition for Google Snippet: BookWise is a book author theme for WordPress for Thrive Theme builder. It's specifically designed to help indie authors & writer-preneurs display their work and market their personal brand.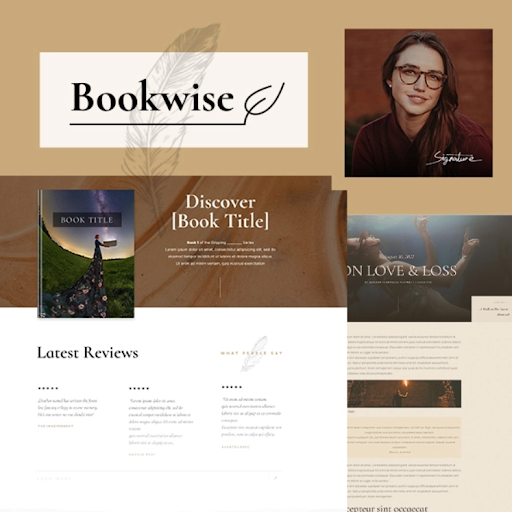 This author theme in WordPress allows you to create your own website without needing to write a single line of code. It'll help you showcase yourself as an author and share your books, characters, world-building, and events with your readers to drive more conversions.
The beauty of Thrive Themes Bookwise is that it allows you to create and customize your website just the way you want and change the look and feel of the entire site. On top of that, you'll still have complete control over your brand, fonts, colors, and design.
Who Can Use Bookwise by Thrive Themes?
Any writer who wants to have a website to create a strong online presence and drive more sales can use Bookwise.
This author WordPress theme is ideal for self-published indie authors, illustrated novel writers, and people who want to create an author-focused or book-focused personal brand. Here are some author audience profiles that you can use for inspiration.
Bookwise Features: Overview
Here's an overview of features that Bookwise offers for writers.
Make your website book-focused or author-focused depending on your preferences.

Unlike most author themes WordPress, Bookwise allows you to customize your website down to the pixel. You can customize every aspect of your WordPress site including headers, footers, and sidebars.

More than 300 readymade conversion-focused landing pages to grow your audience and sell more books using Thrive Architect.

Create and deploy lead generation forms anywhere on your website to grow your email list using Thrive Leads.

Different ways to showcase your book reviews and awards, along with the number of current book downloads.

Build and display engaging, audience-segmentation quizzes to engage site visitors to join your mailing list using

Thrive Quiz Builder

.

Create scarcity marketing campaigns and countdown timers to boost your sales every time you launch a new book or book series using

Thrive Ultimatum

.

Microblog management to keep your fans and followers engaged and updated on the progress of upcoming works.

Build and sell your own online courses with Thrive Apprentice.
Bookwise Website Creation
Thrive Suite gives you everything you need to create a conversion-focused writer-preneur business on WordPress. When you install Bookwise, you'll be able to quickly build a modern, inviting brand that will draw more-and-more readers into your stories.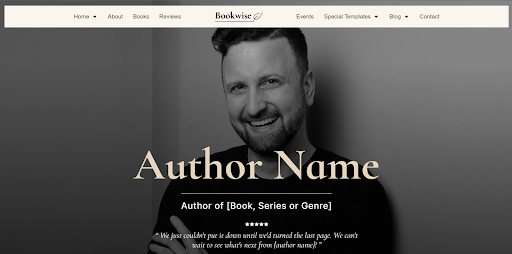 There are two major parts of creating your website using Bookwise, including site branding and site structure. Site branding includes uploading your own logo and selecting your brand's color.
The site structure part allows you to select your header, footer, homepage, and blog post templates, along with other important cornerstones of your website. There are dozens of pre-built templates that you can use to create a stunning WordPress website. Here's an example website created with Bookwise by Thrive Theme.
The Bookwise website creation will also allow you to create and customize the following:
Hero Section:

Allows you to upload your photo and add your personal information using pre-built "tutorialized text" like "Author of [Book, Genre, or Series]" and "Author Name".

About Section:

You can utilize this section to introduce yourself to your readers. This section also allows you to upload a high-quality photo.

Book Covers Section:

Here, you can showcase your best-performing books that your website visitors can buy.

Events Section:

This section allows you to keep your readers and fans updated regarding all your upcoming events, such as interviews, webinars, dates for a book tour, and/or meet-ups.

Reviews Section:

In this section, you can upload the best reviews on your books to impress website visitors.

Teaser Section:

Here you can upload an exciting excerpt from one of your upcoming books to pique your website visitors. You can also add compelling links and CTAs (Call-to-Actions) to redirect visitors to the page from where they can purchase your books.

Awards and Lead-Generation Section:

Here you can showcase stats about your work or awards you've won within a couple of clicks.
What makes Bookwise one of the best author themes WordPress is that it allows you to delete, add, and shuffle designs of all pre-built sections.
You can also create a "Book Overview" page where you can provide your readers with more information about all your books. Better yet, you can create a dedicated "Individual Book" page for each of your books as well.
Bookwise offers a free step-by-step video course on how to build a stunning indie-author website that your readers will love.
Bookwise Microblogging Template
As Thrive designed the new Bookwise theme, their research uncovered a need for an ultra-short blog post template that indie authors could use to share quick updates with their audience (referred to as microblogging).
They developed a template that writers could use to keep a progress log for National Novel Writing Month or NaNoWriMo as it's better known or just to share fun teasers about their current project.
So what is microblogging – it's perfect for sharing regular, short updates with your audience and peers, without asking you to commit to even more writing on a standard blog post.
Thrive's newest WordPress theme, Bookwise, features a specially designed Micro Blog Post template that helps authors to quickly publish short 'journal style' updates without tempting you to share too much.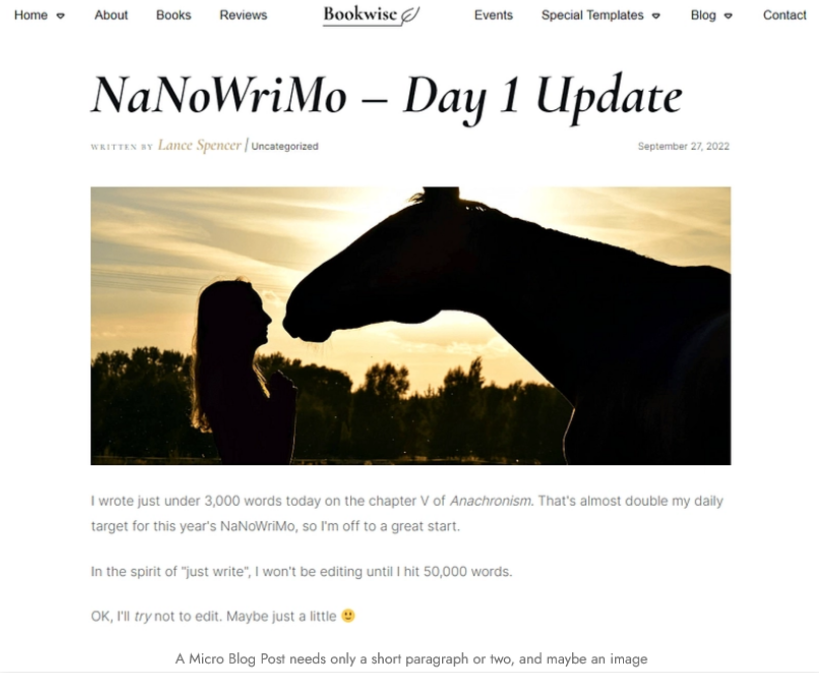 Think of Bookwise's Micro Blog Post template as your website's personal Twitter-esk feed. Except you control it completely… the design, the layout, the content. You can then show off a Post List of these accountability updates anywhere on your website.
You can find out more about microblogging and how Bookwise's Micro Blog Post template can help you share project progress updates here.
Bookwise Free Trial
Bookwise offers a free 14-day trial of Thrive Suite that allows you to access and try Thrive Theme Builder and Bookwise. You can use this free trial to give Bookwise a test drive and build an indie author or writer-preneur website. All you need is to sign up for Bookwise and that's about it.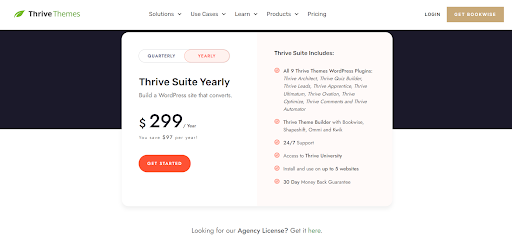 Signing up to Bookwise will also provide you with access to other Thrive Themes conversion-focused WordPress tools, including Thrive Apprentice, Thrive Leads, and Thrive Architect.
Final Words
If you're looking for the best WordPress author website builder, you can't go wrong with Bookwise Review Thrive Themes. It offers everything you need to create a website that will help you stand out from the competition and impress your readers.
It will help you drive more conversions while still helping you preserve the beauty behind your words and the power behind your stories. It's the easiest and most innovative way for authors and writer-preneurs to showcase their work in the best possible way.
Learn more about the power of Bookwise – a powerful new WordPress theme for indi-authors – click the image below for more information.