Warning
: Undefined variable $RWSEOTitle in
/home/u301966578/domains/marketwithclare.com/public_html/wp-content/plugins/reviewwizard/reviewwizard.php
on line
219
Warning
: Undefined variable $UseRWSocial in
/home/u301966578/domains/marketwithclare.com/public_html/wp-content/plugins/reviewwizard/rw_output.php
on line
227
Warning
: Undefined variable $RWExitRedirect in
/home/u301966578/domains/marketwithclare.com/public_html/wp-content/plugins/reviewwizard/rw_output.php
on line
266
Warning
: Undefined variable $RwOutput in
/home/u301966578/domains/marketwithclare.com/public_html/wp-content/plugins/reviewwizard/reviewwizard.php
on line
225

DreamHost Hosting
Founded in 1996, this award-winning WordPress host has earned fame among digital entrepreneurs, website developers, and designers. Indeed, it has good reasons to be proud. Amazingly, during the past 25 years, it has grown from zero to 400,000 customers and hosts over 1.5 million sites. It offers a bevy of tools that satisfies web hosting needs. Even WordPress itself endorses this well-known brand, and that reason would be sufficient to put it on your hosting shortlist. Since it is built on open-source technology, it's a good choice for coding contributions and financial backing.
How It Stands Out from the Rest
It provides a perfect blend of affordable and high-quality service. Interestingly, it is equally suitable for novice users, bloggers, and hardcore developers. Its high uptime rates make it stand out from the rest. No doubt, it is a fantastic option for building websites. Above all, it offers free WordPress website migration. Want to explore more about it? This write-up is about the DreamHost review. So, without further ado, let's dive deep into this review.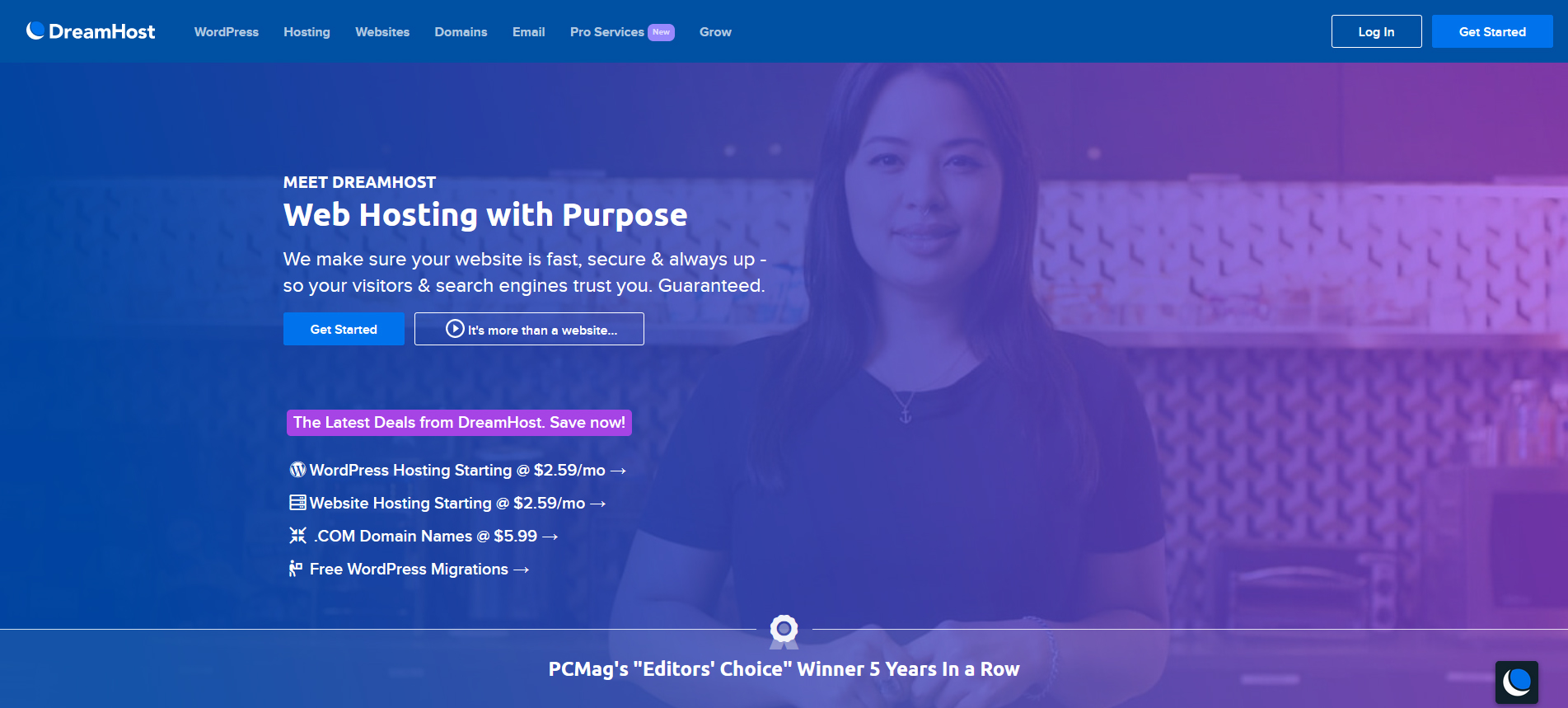 General Information
SPEED:
1320 ms (April 2020 to March 2021)
UPTIME:
99.9% (April 2020 to March 2021)
SUPPORT:
24-hour support, Phone, Email, Knowledge Base, and Forum
APPS:
WordPress, Wix, Drupal, and Shopify
FEATURES:
Unmetered Bandwidth
Automated Backup
Free One Year Domain
Free SSL
STORAGE:
50 GB for Starters
DATABASES:
6 included in Starters and Unlimited unlimited in premium
PLANS:
Shared
WordPress
VPS
Reseller
Dedicated servers
SITE TRANSFER:
Free for WordPress sites
PRICING:
DreamHost pricing starts at $2.59. Renews at $5.99 per month
Pros of DreamHost Web Hosting
1. Month-to-Month Hosting
Recently the uptime rates have reached 99.9%. With this high uptime rate, it has topped the list of uptime rates of popular web hosts. This is why its page loading speed is incredibly fast. And this high number is enough to satisfy your website. Moreover, in any case, if you experience any downtime you will be credited with the service of one day.
2. Month-to-Month Hosting
Many web hosting sites offer a free trial of 30 days so there's nothing novel. Amazingly, Hostgator stands out from the rest because it offers a 45 days refund period and 97 days money-back guarantee.
As a whole as it gives you the freedom to decide whether you want its services or not. What's more, it allows you to pay every month, and if you want to cancel its subscription you can do this any time.
3. Carbon Neutral
Looking for an environmentally friendly web host? Congratulations, Hostgator is the carbon-neutral website or 'green' web hosting provider that has decreased the carbon footprint of their servers. It has been contributing to 'clean wind' programs. As an environmentally conscious site, it has taken all measures from using optimized HVAC plants at their offices, LED lighting, and incorporating data centers with high-efficiency cooling and processors.
4. Affordable Basic Plan Features
What if you get a web hosting starter plan at just 2.59$ per month with a wealth of features? You hear it right! Dreamhost is waiting for you to offer a free domain name, SSL certificate, large storage, access to multiple apps, and a lot more.
5. Free Site Migration
Are you a WordPress user and wondering what special can this web hosting site bring for you? Here, another great news for you, it allows free WordPress site migration with high uptime rates.
This perk comes with a snag. Those who are using some other CMS can't avail of this free site migration.

Cons of DreamHost Web Hosting
1. Lacks Some Advanced Features

Although it has all the basic features to fulfill the basic needs. But it doesn't come with bells and whistles that a tech-savvy person needs. It lacks an integrated caching system, staging, and many other advanced features.

2. Limited Customer Support
Its live support is available from 5:30 AM to 9:30 PM Pacific time. Although, it claims to offer 24 hours in-house support it's not true. You have to face many troubles to get access to anyone available to solve any issues.
Hosting Plans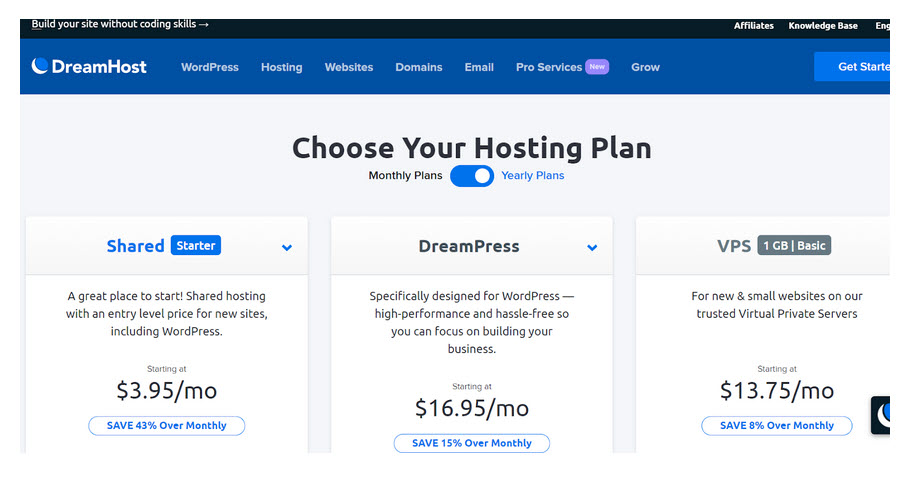 Its extensive list of hosting options is given below:
Shared Hosting
It offers two shared hosting tiers. Starter and unlimited shared hosting plans. If you're planning to launch a small business venture, its starter plan is perfect as it is affordable and starts at reasonable rates of $2.59, $3.95, and $4.95 per month. You can also opt for its shared hosting plan without breaking your bank. It costs you only $5.95, $6.95, or $10.95 per month.
VPS Hosting
Virtual private server hosting plans are managed by the support team at Dreamhost. It makes sure that the loading time of your website increases and it gets its server resources. Moreover, you can upgrade your storage and RAM quickly. You can either choose VPS basic, business, professional, or enterprise plans to meet your needs. All the plans are for a three years contract.
Dedicated Hosting
One distinguishing fact about dedicated hosting is that it offers customizable options. It starts from $149/month with a one-year commitment.
It is further subdivided into standard and enhanced categories. The variety of options present in dedicated hosting gives you full control and access to your websites and domains.
Cloud Hosting
The best thing about DreamCompute, a cloud hosting service of DreamHost, is that it provides full control and flexible pricing. They allow you to change the settings on-demand and don't charge you an extra penny.
WordPress Hosting

It is officially recommended on the WordPress website and offers shared, managed, and VPS hosting for WordPress. The pricing for DreamPress Plan is $16.95/month, DreamPress Plus Plan is $24.95/month, and DreamPress Pro Plan is $71.95/month.
Hidden Fees and Clauses
It is transparent and does not have hidden fees and clauses. But for site migration other than WordPress you will be charged extra costs.
Verdict
Dreamhost is one of the oldest web hosting service options. It offers a range of features and hosting plans with flexible pricing. DreamHost's high performance and uptime are worth considering for anyone who wants to give it a try.

Still Undecided?
Are you considering Dreamhost but trying to figure out what's the best – dreamhost vs bluehost? Check out our review of Bluehost here.