Warning
: Undefined variable $RWSEOTitle in
/home/u301966578/domains/marketwithclare.com/public_html/wp-content/plugins/reviewwizard/reviewwizard.php
on line
219
| | |
| --- | --- |
| | RATINGS |
Price
Concept
Execution
Value
| | |
| --- | --- |
| | TOTAL |
Warning
: Undefined variable $PostAuthor in
/home/u301966578/domains/marketwithclare.com/public_html/wp-content/plugins/reviewwizard/rw_output.php
on line
202
Warning
: Undefined variable $ProductName in
/home/u301966578/domains/marketwithclare.com/public_html/wp-content/plugins/reviewwizard/rw_output.php
on line
203
Warning
: Undefined variable $PostAuthor in
/home/u301966578/domains/marketwithclare.com/public_html/wp-content/plugins/reviewwizard/rw_output.php
on line
208
Warning
: Undefined variable $PublishDate in
/home/u301966578/domains/marketwithclare.com/public_html/wp-content/plugins/reviewwizard/rw_output.php
on line
209
Vendor:
InMotion
PRO:
Feature-rich, money back guarantee, 99.99% uptime
CON:
Slow onboarding and occasional maintenance
Warning
: Undefined variable $UseRWSocial in
/home/u301966578/domains/marketwithclare.com/public_html/wp-content/plugins/reviewwizard/rw_output.php
on line
227
Warning
: Undefined variable $RWExitRedirect in
/home/u301966578/domains/marketwithclare.com/public_html/wp-content/plugins/reviewwizard/rw_output.php
on line
266
Warning
: Undefined variable $RwOutput in
/home/u301966578/domains/marketwithclare.com/public_html/wp-content/plugins/reviewwizard/reviewwizard.php
on line
225
InMotion Hosting Review

It can be really difficult to choose the right web hosting provider. There are tons of different companies out there are they are all claiming that they offer the best services at the best price point, but how do you figure out which is really going to be the best for you?
When you are trying to figure out which web host is going to work best for you, you want to start by coming up with a list of what you need and comparing that to what each company offers. There is not a one-size-fits-all option for website hosting. What may be the best option for one person may not be the best for you.
Nevertheless, there are a few companies that make a good jumping-off point because they offer great hosting solutions that can work for a variety of different customers with a variety of different needs. InMotion is one of these companies, so let's take a look at all they have to offer.
General Information
SPEED:
820 ms (February 2019 to February 2020 average)
UPTIME:
99.95% (February 2019 to February 2020 average)
SUPPORT:
Phone line, Skype, email, live chat
APPS:
WordPress, Magento, WooCommerce, Joomla, among others. Softaculous for quick installs of apps and CMSs.
FEATURES:
MySQL databases
Domains
FTP access
Email accounts
Storage and bandwidth limits
Free SSLs
CMS support
File manager
Security tools
eCommerce integrations
24/7 customer support
PLANS:
Shared hosting
WordPress hosting
VPS hosting
Dedicated server hosting
Reseller hosting
SITE TRANSFER:
Free site transfers
PRICING:
Starting at $4.99 a month and $9.99 at renewal
InMotion Overview
InMotion was first founded in 2001 in the state of Virginia. They offer both domain services and web hosting solutions with plans for both individuals, businesses, and any combination of the two.
What Makes InMotion Better Than The Rest?
So what makes InMotion better than the other companies offering the same services? Well, the main thing is that their hosting plans are extremely feature-rich, meaning you should get most of what you need right from them. All of their plans are also backed with a 90-day money-back guarantee, so if you end up not liking it, you are not taking on any risk. InMotion also guarantees things like pro-grade hosting, 99.99% uptime, and premium security.
Currently, InMotion has over 170,000 happy customers all around the world. They even have great options if you are looking for shared hosting with a group like WordPress hosting, VPS hosting, or a dedicated server.

The Pros
1. Excellent Uptime
InMotion hosting has an uptime of 99.95% and above. This uptime makes it one of the most reliable web hosts currently available because the industry standard is only 99,5%. In fact, InMotion has yet to experience a single major downtime at any of its data centers in comparison to other competitors like HostGator that have had some pretty major problems in the past.
2. 90-Day-Money-Back Guarantee
There is not much better than taking the risk out of making a purchase. It is pretty standard for companies to offer a 30-day-money-back guarantee, but it can be hard to make up your mind within that time period. On the other hand, 90 days gives you plenty of time to try out all the features and make a decision. Unfortunately, shared hosting does only have a 30-day-money-back guarantee.
3. Apps and Integration

There are over 300 different apps and tons of different open source projects supported by InMotion. Just on the dashboard, you can find things like WordPress, Drupal, and other CMSs. You also get access to things like shopping carts and eCommerce systems such as Magento and PrestaShop.
4. Additional Security
InMotion plans all come with security features. For instance, the Sucuri plugin for WordPress scans for viruses and spam. There are also regular site backups to make sure that you do not lose any data or files.
5. Free Site Migrations
This is really important if you are looking to move an already established site from a previous hosting provider. You can move over your domain name through InMotion for free. There may be some downtime during the transfer.
6. Fast Loading Times
InMotion's services support SSD chips, which are known to be 20 times faster than traditional hard drives.

The Cons
InMotion really is one of the best hosting services out there today, but it is not perfect. There are a few cons that are important to be aware of when you are considering using them.
1. Slow Onboarding
When you are setting up an account with InMotion, it takes up to 24 hours to complete the verification problems, which can be frustrating when you are trying to get started quickly.
2. Occasional Maintenance
Because InMotion works to stay so ahead in the industry, they do go through regular maintenance and upgrades, which can be inconvenient at times.
Hosting Plans
InMotion has a variety of different hosting plans so that they can meet the needs of a diverse range of customers.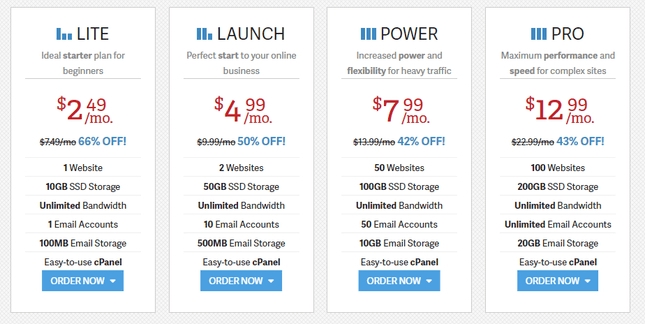 Shared Hosting
InMotion has UltraStack servers, which allow it to offer the fastest and most secure hosting available right now.
The Lite Plan. This is the most basic plan available, and it costs $2,49 a month then renews at $7,49 a month. It comes with 10GB storage and unmetered bandwidth. It allows you to have one website and free email accounts. You also get the SSL certificate, security suite, and marketing tools.
The Launch Plan. This plan starts at $4.99 a month. With this plan, you get your domain for free, two websites, 50 GB of storage, unmetered bandwidth, and 10 email accounts. You also get SSL Certificate, DDoS protection, and marketing tools.
The Power Plan. This plan starts at $7.99 a month. You get a free domain, up to 50 websites, 100 GB of storage, 50 email accounts, an SSL certificate, and marketing tools.
The Pro Plan. The Pro Plan is the biggest plan offered by InMotion and costs $12.99 a month. With this plan, you get everything the other plans have to offer, plus 200 GB of storage and Pro Support SLA.
WordPress Hosting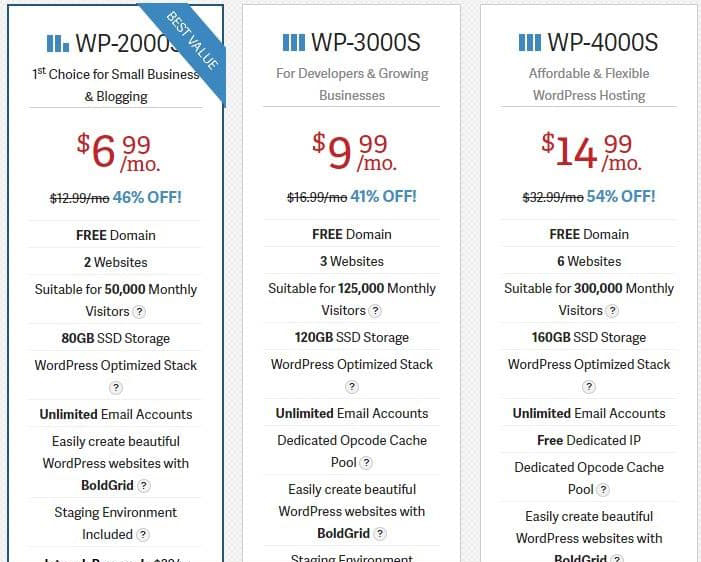 There are three different WordPress Hosting plans: WP-2000S for $6.99 a month, WP-3000S for $9.99 a month, and WP-4000S for $14.99 a month.
VPS Hosting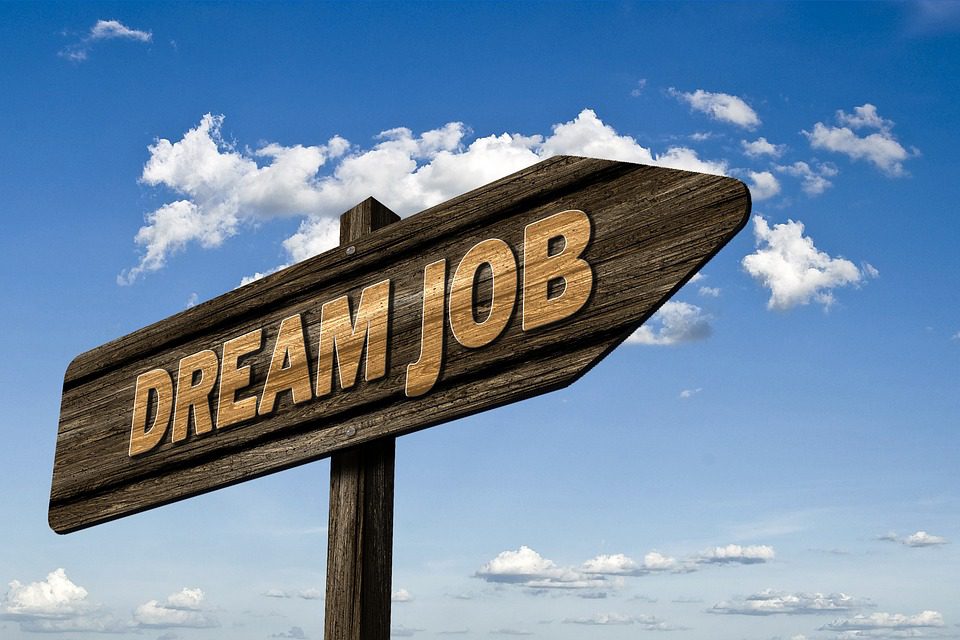 There are two VPS hosting plans: VPS-1000HA-S for $17.99 a month and VPS 2000HA-S for $64.99 a month.
The Verdict
InMotion is one of the most reliable hosting providers available due to the uptime of 99.95%, and their plans are unrivaled. We also love that they have extremely responsive customer support. Whether you are looking for shared hosting, WordPress Hosting, VPS hosting, or a dedicated server for your website, InMotion likely has an option that will work for you.