Warning
: Undefined variable $RWSEOTitle in
/home/u301966578/domains/marketwithclare.com/public_html/wp-content/plugins/reviewwizard/reviewwizard.php
on line
219
| | |
| --- | --- |
| | RATINGS |
Price
Concept
Execution
Value
| | |
| --- | --- |
| | TOTAL |
Warning
: Undefined variable $PostAuthor in
/home/u301966578/domains/marketwithclare.com/public_html/wp-content/plugins/reviewwizard/rw_output.php
on line
202
Warning
: Undefined variable $ProductName in
/home/u301966578/domains/marketwithclare.com/public_html/wp-content/plugins/reviewwizard/rw_output.php
on line
203
Warning
: Undefined variable $PostAuthor in
/home/u301966578/domains/marketwithclare.com/public_html/wp-content/plugins/reviewwizard/rw_output.php
on line
208
Warning
: Undefined variable $PublishDate in
/home/u301966578/domains/marketwithclare.com/public_html/wp-content/plugins/reviewwizard/rw_output.php
on line
209
Vendor:
Namecheap
PRO:
Free domain, competitive pricing, beginner friendly
CON:
No customer support through the telephone
Warning
: Undefined variable $UseRWSocial in
/home/u301966578/domains/marketwithclare.com/public_html/wp-content/plugins/reviewwizard/rw_output.php
on line
227
Warning
: Undefined variable $RWExitRedirect in
/home/u301966578/domains/marketwithclare.com/public_html/wp-content/plugins/reviewwizard/rw_output.php
on line
266
Warning
: Undefined variable $RwOutput in
/home/u301966578/domains/marketwithclare.com/public_html/wp-content/plugins/reviewwizard/reviewwizard.php
on line
225
Choosing a web hosting site for your unique website can be an uphill task, considering all of the options available in today's society. People tend to forego more expensive options and selecting whichever host is the cheapest. Doing this ignores critical factors such as how secure the site is, the loading speed and uptime, and the quality of customer service that is offered. Namecheap Hosting offers to handle the things that you might need with no hassle. Even though all companies claim that they are the best in their industry, Namecheap offers some unique and helpful tools that might put them ahead of their competition.
I know the cheapest offer might look attractive, but remember that doing that will overlook the vital components that I mentioned above. Deciding on a web host for your website can be confusing and stressful. I aim to help by reviewing Namecheap and letting you know whether or not it's worth your time. Let's go ahead and dive right in!
Namecheap Hosting
Founded by Richard Kirkendall in 2000, Namecheap claims to be devoted to providing high-quality hosting solutions while also keeping the prices down. Per the name, Namecheap is one of the most reasonably priced web hosts around. The company boasts of managing over 10 million domains. Some might say that Namecheap is one of the most popular web hosting sites in this century.
What services does Namecheap offer?
Namecheap provides a variety of unique domains and offers host plans that are tailored to fit each individual.t Each plan comes with top-notch security tools such as WhoisGuard privacy and SSL certificates. They also guarantee an uptime of up to 100%. Namecheap doesn't just provide shared hosting. They also offer plans for various versions of hosting like reseller, WordPress, VPS, dedicated, and email.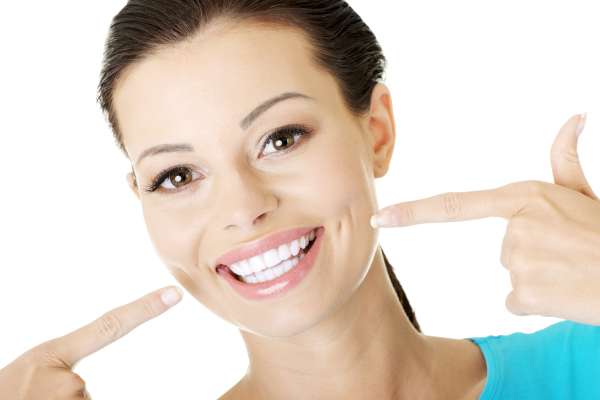 The Pros and Cons
Pros of Namecheap Hosting
Namecheap is well known for its price, but what else does the site offer? Things like advanced security features and easy site migrations are just a few of the helpful features that are provided when you sign up.
1. Free domain
They are the leading domain registrar when concerning domain names and registrations, making them an easy choice for beginners and even advanced users.
2. Competitive pricing
Namecheap is widely known for the inexpensive pricing of its packages. Don't be fooled by the price tag as these packages pack quite a few features for only a minimal fee. The packages have amazing features without a large price tag. Things like expansive storage space and tight domain security are just a few of the benefits that tend to draw in customers. Who wouldn't want a high-quality web host at a low-quality price?
3. Beginner-friendly
Starting your website can be a daunting task. It is easy to become confused by everything you need to do to start your site and manage it. Thankfully, Namecheap features an easy user dashboard that was made to ease the stress and confusion of those who are new to web hosting. After signing up a welcome email will be sent that contains instructions for using the site and directions to various features. The admin dashboards are minimalistic and easy to use. The cPanel additionally offers Softaculous, a script library that helps you easily install apps. Essentially, Namecheap is a well-tailored web hosting site for newbies that are searching for a cheap but straightforward provider. This can be a great asset for those who are brand new to web hosting and need help to begin understanding its complexities.
4. Reliable site backups
Namecheap conducts two separate backups of each users' accounts each week. This reassures that you won't have to do the backup yourself since it occurs automatically! No more panic at the possibility of losing vital content within your site. Plus the backups come with each plan! It would be hard to lose your content, even in the worst-case scenarios. Less stress for you, more protection for your website!
5. Datacenter options
Another bonus feature provided by Namecheap allows you to pick your preferred data center. During the sign-up process, you are offered an option to utilize either the UK or US data center. This feature is extremely helpful for those who are stuck in the middle between the US and UK. Plus, it gives you the freedom to choose what you think is best for you and your site.
6. Additional domain security
As we mentioned, Namecheap has garnered quite a reputation for its quality of site security. No matter which package you pick, you will be provided a free security tool called WhoisGuard for the first year. After that first year, you will need to pay a small amount to continue having access to that specific tool. You will also get a decent discount on the host's premium SSL certificates, and can even have security alerts sent straight to your email.
7. Decent performance
While offering a decent uptime of 99.99%, Namecheap also features a 687 ms page loading speed. It is a good speed, even though some competitors can offer faster loading speeds. You get what you pay for, and a 687 ms loading speed is nothing to scoff at.
8. Money-back guarantee
After subscribing you have the option to cancel your subscription and seek a refund within the first 30 days if the site just isn't for you. This way, you avoid the possibility of investing in a program that doesn't fit your personal needs!

Cons of Namecheap Hosting
One thing that NameCheap is lacking is not its quality of customer service but rather the forms of access provided to customers. The main drawback is that NameCheap doesn't offer customer support through the phone. This can be devastating for those who prefer to have phone conversations to be walked through any issues they are having with the site. Despite this, Namecheap still promises to provide exceptional customer service to all of its users.
General Information
SPEED:
192 ms (July 2022 – July 2023)
UPTIME:
99.96% (Past 6 months)
SUPPORT:
FAQ, live chat, ticket system, knowledge base & email
APPS:
Site Maker, Supersonic CDN, Relate, EasyWP, Stencil, Validation.com, FastVPN, Google Workspace, Business Card Maker, Logo Maker, Strikingly, Weebly, Ghost Machine, Namecheap Uptime Monitoring, RelateLegal
FEATURES:
SSD Powered servers
Unlimited bandwidth
One-click installations features
Drag-and-drop website builder – doesn't require any coding skills
Automatic backups
Easy to use interface
High-security standards
Decent Uptime
30-day Money-Back Guarantee
Fully-Loaded Value Plan
Softaculous app installer
Free emails
Databases
Auto-responders
Dedicated IPs
PLANS:
Shared hosting
Reseller hosting
WordPress hosting
VPS hosting
Dedicated server hosting
SITE TRANSFER:
Free website migration
PRICING:
The most basic hosting plan from NameCheap costs $6.88 per month.
Hosting Plans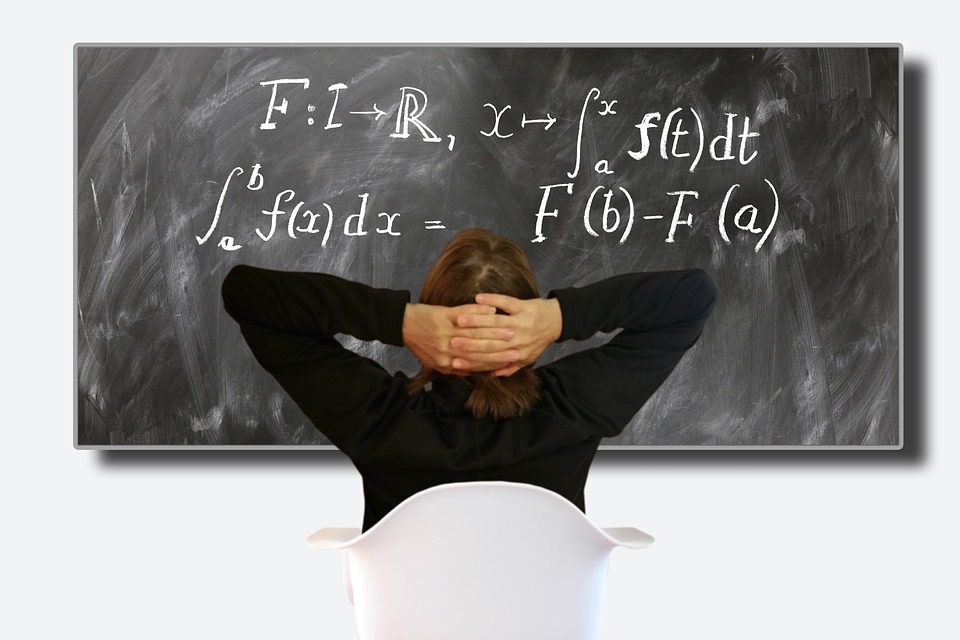 Shared Hosting
Stellar. Costs $1.58 per month. This plan comes with 20GB SSD storage, three websites, and a free domain name.
Stellar Plus. This plan costs $2.68 per month and it offers unmetered bandwidth and storage, site backups, and a free domain name.
Stellar Business. For $4.8 per month, you get 50GB storage, unlimited websites, cloud storage, site backups, and a free domain name.
All these plans come with a free site builder, unmetered bandwidth, free domain name and protection, free SSL installation, and a 30-day money-back guarantee.
WordPress Hosting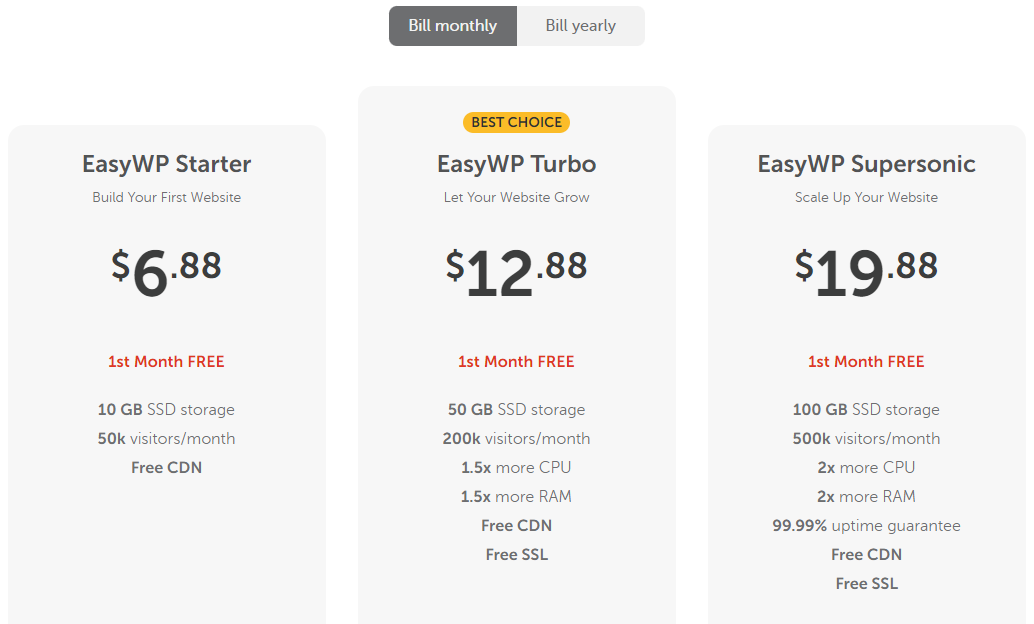 This category includes the EasyWP Starter, EasyWP Turbo, and the EasyWP Supersonic plans. Their prices are $6.88, $12.88, and $19.88 per month respectively.
Want a Quick Way to Get Your Blog Up and Running?
With record speed and performance and top customer support 24/7 – what's not to like about Namecheap's EasyWP managed WordPress hosting.
Here's why it's ideal if you want to get going FAST!
Launch your website in minutes
Free trial
Free SSL & CDN
99% uptime
Free migration
Unmetered bandwidth
Blazingly fast
Manage all your WP sites in one place
Easy website backups
Check out the video below to learn more
Reseller Hosting

Under this category, we have three plans: the Nebula, Galaxy Expert, and Universe Pro. They cost $19.88, $39.88, and $58.88 per month respectively.
Namecheap VPS Hosting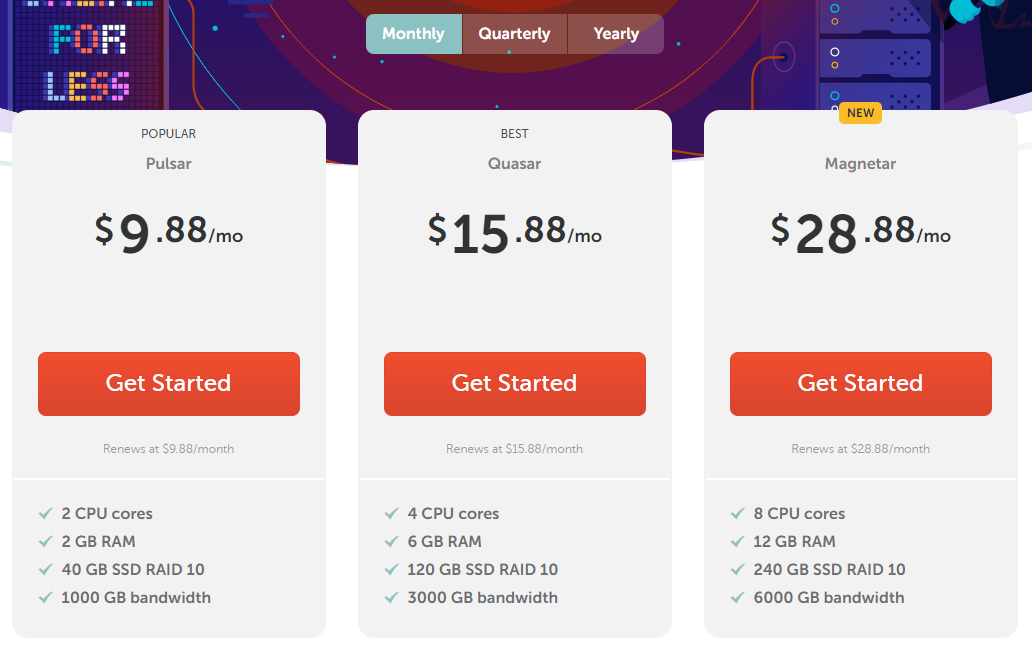 Of the hosting services available to the average consumer, the cheapest of the lot is called Shared hosting. That is when multiple users are granted access to the same server. These accounts are ideal for people who just need a place to park a site temporarily, or perhaps are just getting started and will eventually upgrade at a later time when the budget allows. However, for a performance conscious consumer, the cheapest, yet high performing solution available to them is a Virtual Private Server (VPS). Namecheap offers a fantastic VPS Hosting solution.
While there is no faster service than a dedicated hosting server, but they are only suited for when you are generating that kind of money. Otherwise, a VPS solution strikes a fine balance between what cost and efficiency. A VPS Solution is technically still a shared resource, but you are fully allocated the resources offered in your chosen plan. That way, if someone else throttles their performance, it won't affect yours in any way, and your site's performance remains unaffected.
This offering comprises the Pulsar, Quasar and Magnetar hosting plans. Their prices are $9.88, $15.88, and $28.88 per month respectively.
Dedicated Server Hosting
This category has Xeon E3-1230 v5, Xeon E-2236, Dual Xeon Silver 4208, Xeon E-2234, Xeon E-2236, and Dual AMD EPYC 7282. The table below shows the monthly pricing for these plans: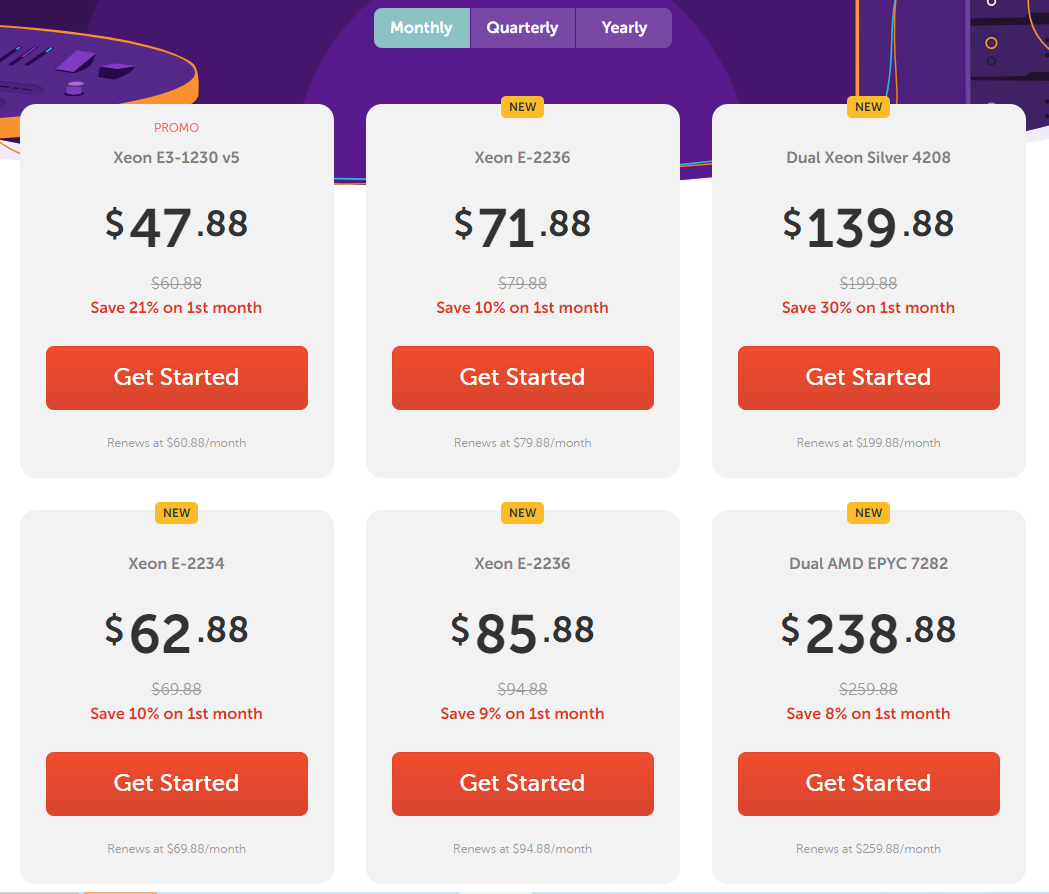 Namecheap VPS Plans Explained
Namecheap offers the following plans for their VPS selection, these aren't as elaborate as some other providers, and that helps consumers make a quicker decision. They are upfront about how they charge and that is quite different from the rest of the industry. However, Namecheap's plans are advertised as "unmanaged" plans, i.e., they just give you the space, you figure out what to do with it. They charge extra if you need help with that.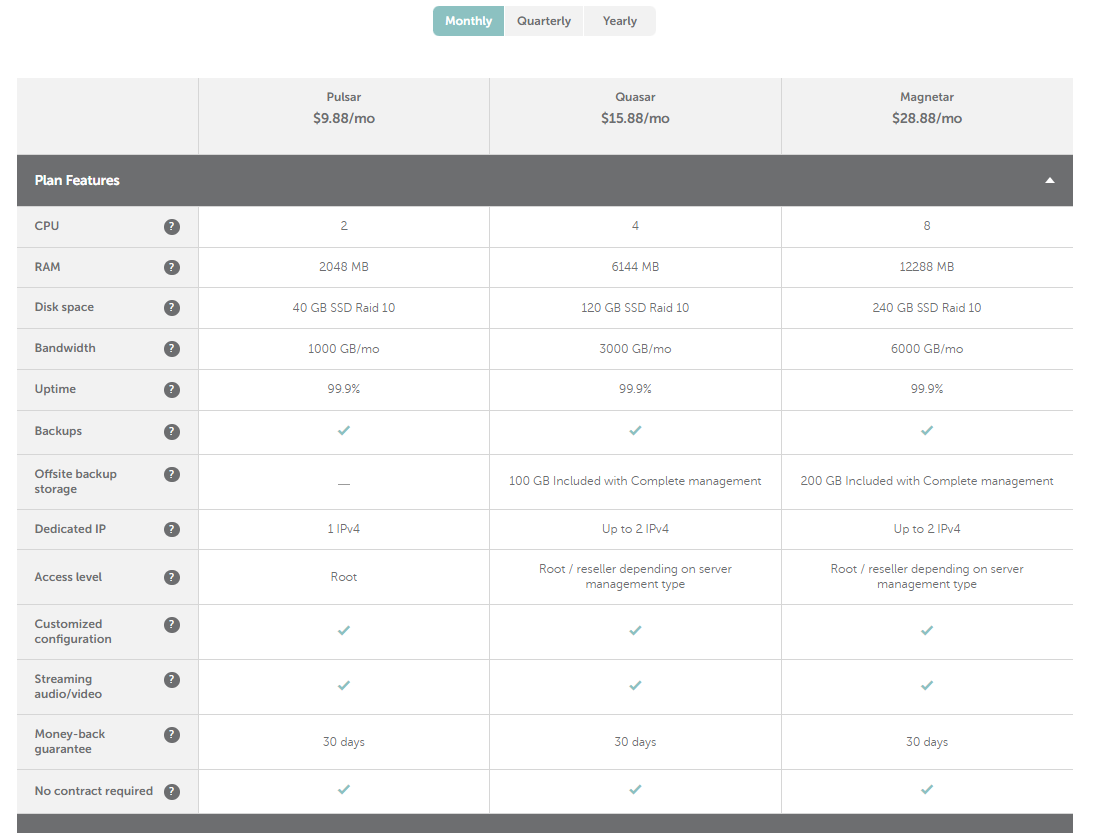 The above listed price is a monthly breakdown of a one-time discount for a full year's subscription. Regularly, for the Pulsar package, you can buy a single month for $9.88, 3-months for $26.64, and a whole year for $82.56. The Quasar package is $15.88 for one month, $44.64 for 3-months, and $154.56 for the whole year. The Magnetar package is $28.88 for one month, $80.64 for 3-months, and $298.56 for the whole year. Namecheap are considerably more transparent about their pricing and offering than other providers.
Keep in mind that these services listed are for unmanaged hosting. As mentioned already, to acquire a managed solution, you will have to pay extra to install an instance. Namecheap windows hosting
Namecheap are known for their solid uptime and highspeed results, making it a reliable host. However, there are those who felt Namecheap's customer support was lacking. People also expressed a desire for versatility in choice of datacenters for Namecheap. There might be some better options available, but Namecheap is definitely a contender.
The Verdict
Namecheap Hosting is a decent hosting provider. They provide unique domains and hosting plans to fit your budget and needs. Plans offer unique features like security tools and an uptime guarantee. We would recommend it for those who are on a strict budget and those who have just recently discovered web hosting. In this situation, the pros outweigh the cons, making Namecheap a good site to consider when making your final decision.
Comparison of VPS Plans
If you're looking to compare another VPS option, such as Hostinger, the prize would have to go with Namecheap, as they are quite transparent about their pricing and offering. Namecheap also costs less than Hostinger. A discounted VPS 5 Hostinger plan will cost $1,149.60 for 4-years, while Namecheap doesn't offer 4-year plans, but you'd end up paying $618.24 for the same services. Even if you add managed services, you still get a better deal with Namecheap.