Warning
: Undefined variable $RWSEOTitle in
/home/u301966578/domains/marketwithclare.com/public_html/wp-content/plugins/reviewwizard/reviewwizard.php
on line
219
| | |
| --- | --- |
| | RATINGS |
Price
Concept
Execution
Value
| | |
| --- | --- |
| | TOTAL |
Warning
: Undefined variable $PostAuthor in
/home/u301966578/domains/marketwithclare.com/public_html/wp-content/plugins/reviewwizard/rw_output.php
on line
202
Warning
: Undefined variable $ProductName in
/home/u301966578/domains/marketwithclare.com/public_html/wp-content/plugins/reviewwizard/rw_output.php
on line
203
Warning
: Undefined variable $PostAuthor in
/home/u301966578/domains/marketwithclare.com/public_html/wp-content/plugins/reviewwizard/rw_output.php
on line
208
Warning
: Undefined variable $PublishDate in
/home/u301966578/domains/marketwithclare.com/public_html/wp-content/plugins/reviewwizard/rw_output.php
on line
209
Vendor:
FastHosts
PRO:
Unlimited bandwith, free domain registration
CON:
No free SSL, rather complicated
Warning
: Undefined variable $UseRWSocial in
/home/u301966578/domains/marketwithclare.com/public_html/wp-content/plugins/reviewwizard/rw_output.php
on line
227
Warning
: Undefined variable $RWExitRedirect in
/home/u301966578/domains/marketwithclare.com/public_html/wp-content/plugins/reviewwizard/rw_output.php
on line
266
Warning
: Undefined variable $RwOutput in
/home/u301966578/domains/marketwithclare.com/public_html/wp-content/plugins/reviewwizard/reviewwizard.php
on line
225
Why Choose FastHosts Hosting?
FastHosts Hosting
Years ago, an A-level student while doing a school project, developed an astonishing web hosting service. Pretty amazing, right? In 1999, Andrew Michael amazed his fellows and trainers with the creation of Fasthosts hosting. In 2006, United Internet acquired this hosting service, and its dedicated servers have steered it with a wealth of success and earned it with an award on PC Plus magazine's Hotlist. This UK-based hosting provider is a great choice to target the UK-based audience. It has got the privilege of being on the list of the world's largest web hosting providers.
Why Choose Fasthosts Hosting?
Well, I am not an advocate of outright simplicity but this is one of the best web hosting providers that springs readily on my mind while thinking about UK-based customers. In essence, it is a decent choice for UK-based small businesses and surprisingly has high-performance speed. It excels in cloud servers, web hosting, and dedicated hosting packages. Moreover, you can contact it 24/7 via social number. You surely want to know about its hosting plans and further details. We dug deep to find the nitty-gritty of the Fasthosts hosting.
This write-up is about Fasthosts review. Stay tuned here.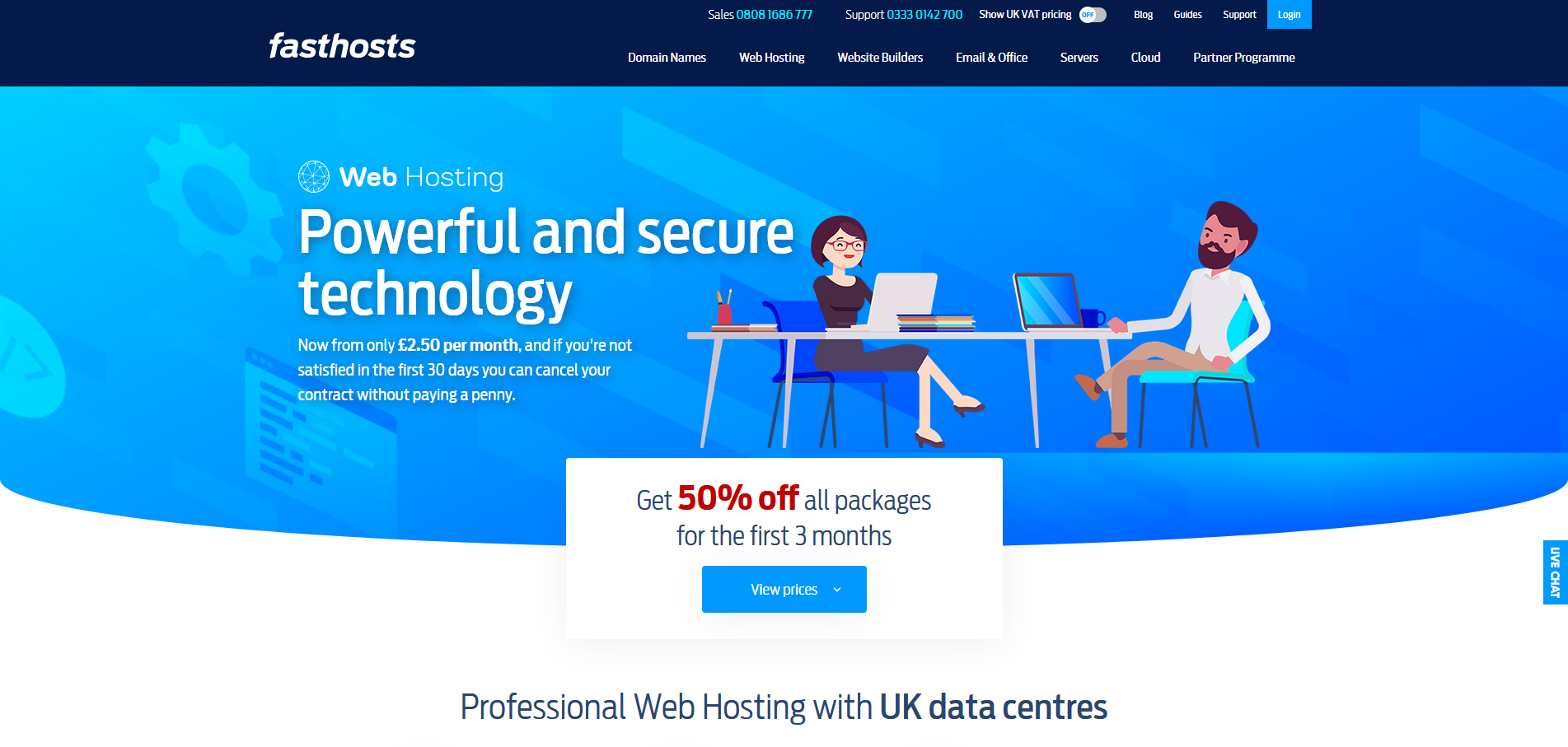 General Information
SPEED:
487ms average UK speed
UPTIME:
No statistics available on the website about uptime and Fasthosts does not brag about its uptime.
SUPPORT:
Chat, Phone, Email, and 24/7
APPS:
WordPress, Drupal, Joomla, and Prestashop
FEATURES:
Unlimited bandwidth
30 days Money-back guarantee
Instant WordPress setup
Free Domain Name
SSL certificate
Super Fast loading speed
AP
PLANS:
Shared, VPS Linux-based and Windows-based, Cloud-based hosting
SITE TRANSFER:
Free single transfer
PRICING:
Starting from £2.50 per month. Fasthosts WordPress hosting is the cheapest and starts from just £1.99 per month
Pros and Cons of FastHosts 
Pros of FastHosts
Fasthosts has various pros or benefits that make it the perfect hosting and domain company in the website industry. Here are its pros that provide it more value than many others.
1. Unlimited Bandwidth

If you have a website that brings thousands of viewers per day, you need unlimited bandwidth. So Fasthosts provided unlimited bandwidth without charging too much and didn't restrict the data to transfer in servers device.
2. Free SEO tool
SEO is the primary demand of every hosting and domain as it helps to boost the rankings. Search engines strictly follow the SEO rules to rank a specific site. So it needs the proper tools to do SEO of a website that you can get by having Fasthosts hosting. It provides free SEO tools to maintain the rankings of your websites.
3. Unlimited Email Accounts

Many expensive hosting sites provide a limited number of email accounts. But with Fasthosts, you can get unlimited email accounts. That is a good thing when multiple people are managing a website. Every person or manager has their account to access the website.
4. Free Domain Registration
If you want to save a few bucks while creating a website, it is the best option. Fasthosts web hosting allows free domain registration with a 12-month contract. So by registering the domain, you can avail various extension access.
5. Application Support
The Fasthosts hosting plan allows the user to support multiple applications like WordPress, Drupal, Joomla, and PrestaShop. You can also change the application plan whenever you want, even after purchasing, like a windows plan or Linus plan.
6. Solid-State Drives
It has solid-state drives(SSDs) instead of traditional drives. The SSDs drives can pull the data more quickly than the others. So it provides faster loading and uptimes for your website.

Cons of FastHosts 
Fasthosts have numerous pros, but it is evident to have some cons. So let's look at them.
1. No Free SSL

It is the weirdest thing that Fasthosts do as they didn't give the SSL. Google actively labels the non-HTTPS sites as insecure about how a website remains in the game without SSL certificates. But it is only for the first year's plans as they have free SSL with highly paid hosting packages.
2. Complicated
It is complicated and not easy to use for beginners. So it needs improvements in its interface that is easy to access and ideal for beginners. Moreover, it has complex pricing plans that are the major drawback.
Fasthosts Hosting Plans

It provides its customers with four hosting tiers to choose from.
Personal package: It gives you unlimited bandwidth and 5 GB of disk space. You can host one website with this package. Along with that, it provides 1 MySQL database, 50 starter mailboxes, unlimited bandwidth, and 5 FTP accounts.
Business Bronze package: it provides 50 GB disk space, 500 starter mailboxes and subdomains, 10 MySQL databases, and 50 FTP accounts.
Business Silver package: Talking about disk space, starter mailboxes, and subdomains, the silver package offers unlimited services to users. You can host two websites with 100 MySQL databases and FTP accounts.
Business Gold web hosting plan: It allows you to host 3 websites with unlimited disc space, bandwidth, MYSQL, subdomains, and FTP accounts.
VPS hosting: It offers Linux-based and Windows-based one starter, two professional tiers, and customizable advanced packages. Each tier offers unlimited bandwidth and 2 IP addresses.
WordPress hosting: It makes sure that your web pages load quickly. It starts at £1 per month and offers 10GB of SSD space.
Besides shared and VPS hosting, it also contains Cloud Hosting and a dedicated server.
Hidden Fees and Clauses
Another bonus? Fasthosts won't charge a single penny for setup fees. It doesn't contain any hidden fees. And it is a convincing thing that might attract you to use this hosting service.
Verdict
If you are looking for a UK-based hosting site, Fasthosts is a pretty nice choice to consider. Although it doesn't contain a heap of features, it has all lollapalooza that small businesses need. Admittedly, it does not guarantee its uptime but still, it offers a lot of things that can attract anyone looking for hosts that have good page loading speed and overall excellent performance. I hope this review helps you out deciding should you take the plunge or not.