Warning
: Undefined variable $RWSEOTitle in
/home/u301966578/domains/marketwithclare.com/public_html/wp-content/plugins/reviewwizard/reviewwizard.php
on line
219
| | |
| --- | --- |
| | RATINGS |
Price
Concept
Execution
Value
| | |
| --- | --- |
| | TOTAL |
Warning
: Undefined variable $PostAuthor in
/home/u301966578/domains/marketwithclare.com/public_html/wp-content/plugins/reviewwizard/rw_output.php
on line
202
Warning
: Undefined variable $ProductName in
/home/u301966578/domains/marketwithclare.com/public_html/wp-content/plugins/reviewwizard/rw_output.php
on line
203
Warning
: Undefined variable $PostAuthor in
/home/u301966578/domains/marketwithclare.com/public_html/wp-content/plugins/reviewwizard/rw_output.php
on line
208
Warning
: Undefined variable $PublishDate in
/home/u301966578/domains/marketwithclare.com/public_html/wp-content/plugins/reviewwizard/rw_output.php
on line
209
Vendor:
InterServer
PRO:
Excellent uptime and loading speed
CON:
No free domains
Warning
: Undefined variable $UseRWSocial in
/home/u301966578/domains/marketwithclare.com/public_html/wp-content/plugins/reviewwizard/rw_output.php
on line
227
Warning
: Undefined variable $RWExitRedirect in
/home/u301966578/domains/marketwithclare.com/public_html/wp-content/plugins/reviewwizard/rw_output.php
on line
266
Warning
: Undefined variable $RwOutput in
/home/u301966578/domains/marketwithclare.com/public_html/wp-content/plugins/reviewwizard/reviewwizard.php
on line
225
InterServer Hosting – All You Need to Know

A reliable web hosting provider is the backbone of your website. That is why most Webmasters search for a web hosting provider with great features and excellent customer support. There are very few web hosting providers which provide the combination of the same.
InterServer hosting is one of them.
We will share with you our InterServer hosting review below. Once you go through the details of InterServer hosting as well as its advantages, it will become easy for you to decide whether you should go ahead with it or not.
General Information
SPEED:
220 ms (January 2020 to February 2020 average)
UPTIME:
100% (January 2020 to February 2020 average)
SUPPORT:
Phone support, ticketing system, email, 24/7 live chat
APPS:
WordPress, Pebble, SitePad, Chyrp, HTMLy, Apache Roller, Serendipity, Dotclear, Textpattern, PivotX, Pubvana, Joomla, Drupal, e-commerce apps, CMSs, mailing lists, forums, and over 400 other apps.
FEATURES:
Unlimited storage
Unmetered bandwidth
SitePad site builder
Unlimited emails
Content caching
Intershield protection
Website migration
Free SSL
Easy cPanel
Price-lock guarantee
Quick app installs
FTP access
Speed optimization
Money-back guarantee
PLANS:
Cloud hosting
Dedicated servers
Shared hosting
Quick servers
SITE TRANSFER:
Free site transfers
PRICING:
Starts from as little as $5 per month (Standard web hosting)
Interserver Hosting Plans and Pricing
Web Hosting
This category comprises of:
Standard Web Hosting. This plan costs $5 per month

ASP.NET Web Hosting. Costs $8.00 per month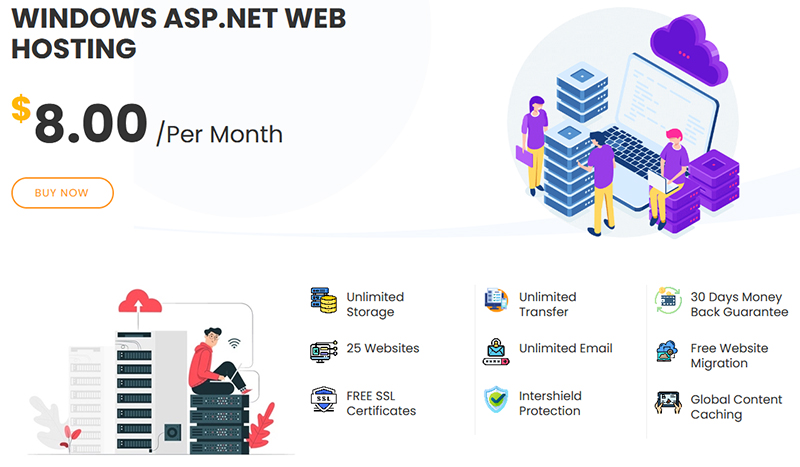 Boost Web Hosting. This offering contains three different plans: The Standard plan ($5 per month), Boost 2 ($9.95 per month), and Boost 4 ($19.95 per month).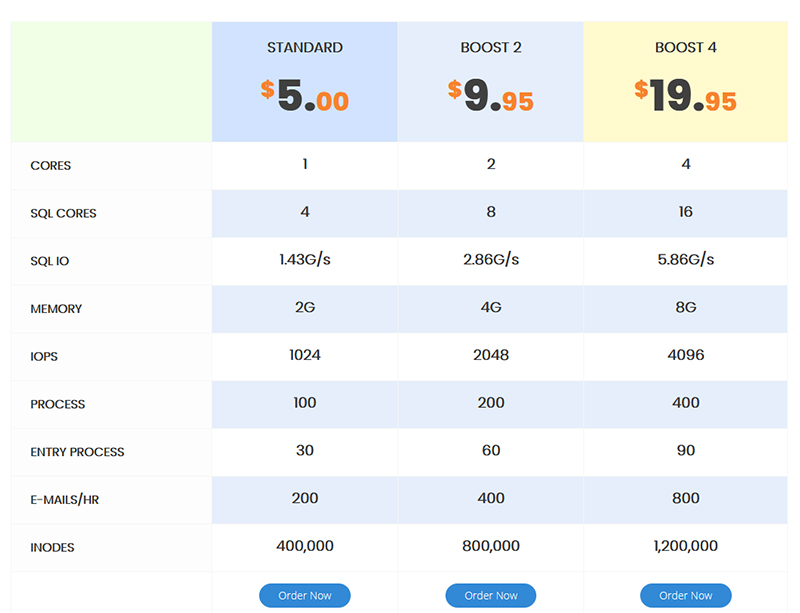 Reseller Hosting. This category is made up of RS ONE, RS TWO, RS THREE, RS FOUR, and RS FIVE. The plans are priced at $19.95/mo, $29.95/mo, $39.95/mo, $49.95/mo, and $69.95 /mo respectively.
Cloud VPS Hosting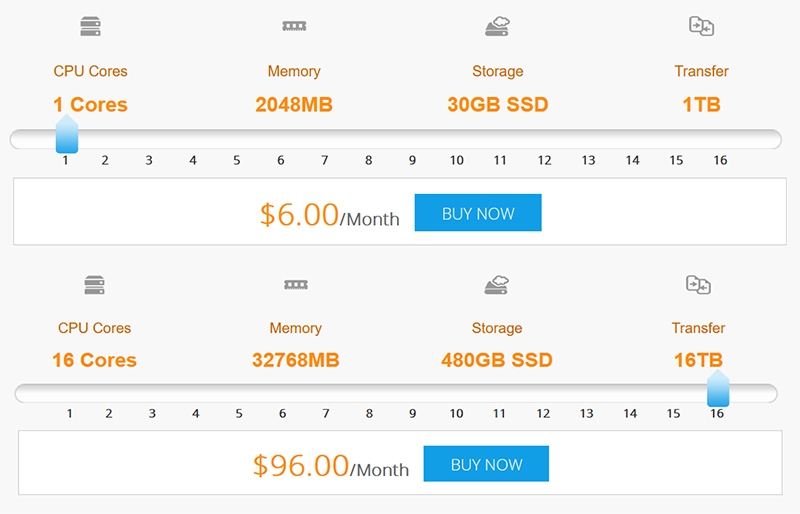 The cheapest plan under this category costs $6 per month while the top-tier plan costs $96 per month.
Also, Windows VPS and WordPress VPS fall under this category, with their cheapest plans being priced at $10 per month and $6 per month, respectively.
Interserver Hosting Overview
The best thing about InterServer hosting is that it has been around since 1999. The founders of InterServer hosting were Lavrik Michael and John Quaglieri. The company was founded in New Jersey, USA.
These days, the company offers dedicated servers, shared hosting, cloud hosting, and various other services from modest initial offerings. It caters to businesses as well as individuals. This company aims to help its clients build a profitable business online.
With its growing customer base, InterServer hosting has also invested hugely into innovation. That is why these days, it provides reputed as well as cutting-edge hosting solutions. It serves many Fortune 500 brands as well when it comes to hosting.
The USP of InterServer hosting is its security. Along with that, it provides extreme reliability, 24/7 live chat support, which helps its clients solve any of their queries in no time.
Now that you are aware of the basics of InterServer hosting, let us look at the advantages that set it apart.

Advantages and Disadvantages of InterServer Hosting
Advantages of InterServer Hosting:
1. 100% Uptime
You will agree that only a handful of web hosting services offer uptime guarantees of 99.9 and above, right?
InterServer performs exceptionally well when it comes to uptime, and you can expect your site to remain up and running most of the time.
2. Excellent Loading Speed
The web hosting provider is only good enough if it provides blazing fast hosting. The advantage of InterServer hosting is that the response time is within 150 to 200 ms. Due to the same, your website will load blazing fast.
When you compare it with any other budget hosting provider, you will find that they cannot match such fast response times.
The fast loading website helps you in search engine rankings and enhances the customer experience, which can directly increase the conversion rate. Consequently, InterServer hosting can certainly benefit you in more ways than one.
3. Responsive Customer Support
While customer support is the Achilles heel for most hosting providers, it is the strong point of InterServer hosting. The prime example is when InterServer helped customers of Arvixe when it was shutting down its company.
InterServer hosting helped them migrate to their servers and ensure that there was no downtime.
Not only that, it serves its customers with equal precision and speed as well. You get access to 24/7 live chat support, email support, and even phone support.
It means that whenever you face any query or any trouble, you can get its resolution in no time. You will not have to wait for hours or working hours of the company.
The resolution is quick and fast, which ensures that your website remains online always.
Additionally, there are seldom many issues with the uptime, which is another advantage of this web hosting provider.
4. Value For Money Packages
InterServer hosting is known for its affordable packages. Whether you're looking for hosting for your business or your blog, it offers them all and more.
Not only that, it offers you a low price guarantee as well. It means that even when you renew your hosting after a year, you will get it at the same price. Consequently, it becomes easier for you to rely on this web post.
Not only that, the company offers you a 30-day money-back guarantee as well. If you're not satisfied with its services, you can cancel your account and get an entire refund.
It means that when going with InterServer hosting, you have nothing to worry about.
5. Robust Security
InterServer Hosting offers Intershield. This tool aims to protect your website against the virus, malware, DDOS attacks, and so on. With the help of this tool, it protects every website is on its servers.
Not only that, the cPanel which they provide ensures that there is no unauthorized access to the resources of your website.
You can easily change the rules of PHP access and ensure that nobody besides you can access the files of your website.
You get not only access to server-level security but also domain-level security as well due to all these features.
The multi-tier security features make it one of the best hosting providers when it comes to security.
6. Free Migration
Want to migrate your website to InterServer hosting?
Worry not!
It provides a free migration service. You have to just share your previous hosting details, and the company will do the rest.
Not only that, they ensure that there is no downtime during the process.
7. Simple Control Panel
InterServer hosting also offers you text-based cPanel. That is why; managing the hosting is certainly easy.
With a simple dashboard and tools for resellers, it is easy for you to manage your web hosting resources with the help of this panel.
8. E-commerce Hosting Available
Opting for hosting for your e-commerce store?
InterServer has you covered there as well.
It offers an affordable e-commerce hosting solution which goes with any content management system like:
OpenCart
PrestaShop
WooCommerce
Magento
And so on
Whichever type of hosting you go with, InterServer makes sure you do not have to burn a hole in your pocket.
Now that you are aware of the advantages let us look at some of the disadvantages as well.
Disadvantages:
While uptime claim is made, there is no guarantee in the terms and conditions of the company.
InterServer hosting does not offer free domains with any of the packages.
Final Verdict
Whether you're looking for excellent uptime, value for money packages, or excellent support, InterServer web hosting has all of them and more. With these resources packaged in every type of hosting it offers, there is no reason you shouldn't go with InterServer hosting.
Not only that, the enterprise-grade security which it offers along with 24/7 live chat support ensures that there is no reason why you shouldn't go with InterServer web hosting. We recommend this web host over others.