HostDime Review – the Good, the Bad & the Ugly

For anyone looking to build an online business or brand, having a website is a must, and among the first steps to create a website is to determine which hosting provider is right for you.
Honestly, this can be a daunting task, because choosing the wrong web host is tantamount to preparing yourself for the headaches and messy that come later on, hence you definitely want to make the right choice in advance to smooth out your next steps.
There are a lot of hosting services out there, with HostDime being one of them. Now we will discuss about this one company – is it reliable enough to become the partner of your online presence? Read our HostDime review to find out the answer.
When you browse the internet for a good hosting deal, you will see that all hosting providers promise the best features and services, and HostDime hosting is no exception. But before choosing your web host, it is crucial that you have the idea of what you actually need.
Many first-time website creators are too focused on price and even make it the main factor to consider when shopping for the right web hosting. This is clearly a mistake, since there are other more important things to take into account.
Instead of just hunting for the lowest price, you should also consider aspects like uptime, page load time and security, which are the foundation for the sustainability of your website.
Fortunately, HostDime hosting has an edge in each of these aspects. Beyond only providing quality services, the company also offers friendly prices, allowing its customers to kill two birds with one stone.
What Sets HostDime Apart
HostDime was established in Florida, United States in 2001 by Vivar Manny. As the number of its servers grew, the provider considered the necessity of setting up a full-featured, large-scale data center to accommodate customer demand. It set another milestone in December 2003 by beginning the operation of its high-tech data center.
HostDime's main service revolves around providing advanced cloud hosting solutions to assist professional webmasters and internet marketers in maximizing their online presence. The company does have its advantages and disadvantages.
What you will likely love about HostDime hosting is its transparency and affordability. It also has a high uptime percentage and a great customer service.
And what you will probably hate is their strict refund policy which makes getting your money back quite tricky. Now let's take a look at the provider's strengths and weaknesses in detail.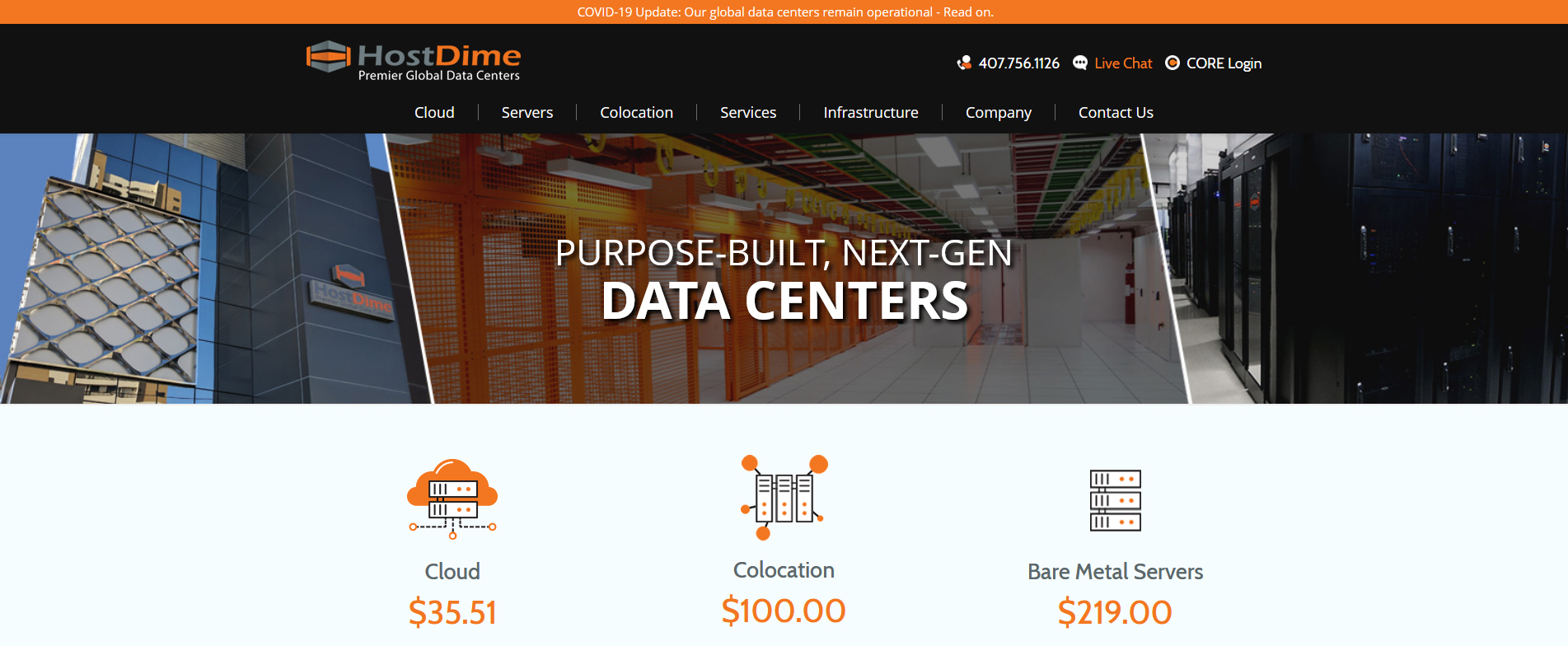 General Information
SPEED:
920 ms (November 2019 to November 2020 average)
UPTIME:
99.99% (November 2019 to November 2020 average)
SUPPORT:
live chat, email, phone line
APPS:
Joomla, WordPress, Drupal, PHP, Zen Cart, and other popular apps
FEATURES:
Softaculous website builder
DDoS protection
SSL certificates
Remote site backups
CDN and Cloud Accelerator
Bandwidth limits
Activity monitoring and web stats
WordPress support
One-click app installs
24/7 tech support
Money-back guarantee
PLANS:
Dedicated server hosting
Cloud services
Colocation
SITE TRANSFER:
Free site transfers within the first month of signing up
PRICING:
The cheapest hosting plan from HostDime costs $35.51 per month
Hosting Plans
Now, let's take a look at some of the most popular hosting plans offered by HostDime.
You can also choose from a range of other plans including Quad-core dedicated servers, managed VPS, Colocation packages, among others.
The Pros of HostDime Hosting
1. Impeccable Uptime
Whether you use HostDime VPS, dedicated servers or other services that the company offers, you will be able to enjoy high availability hosting, because HostDime takes performance very seriously.
They are committed to delivering 99.99% uptime or more each month. The company even go as far as promising to return your money if you get anything less than 99.99%. Below is the detailed return policy:
95% to 99.98% – get back 10% of your monthly payment
90% to 94.9% – get back 25% of your monthly payment
89.99% and less – get a 100% refund of your monthly payment
Anyway, the provider implements different measures to keep your website up and running all the time.
HostDime has a real-time monitoring system called Synapse that allows it to keep an eye on the performance of your server. With this advantage, the company's tech support can act even faster than your complaint by fixing problems even before they come to your attention.
2. Incredible Loading Speed
HostDime hosting puts up fast page loading times of 920 ms. The company can do this thanks to its largest data center in the Southeastern United States. This also means that the web host is backed by exceptional network credentials.
Moreover, it also collaborates with highly-reputable Tier-1 carriers like NTT Communications and Cogent to provide lightning fast connection speeds and bandwidth.
3. Great Customer Service
HostDime's technical support team is always ready to help customers whenever they need assistance. You can contact them via email, live chat or telephone. It takes only small details to link up with them.
You can also visit the company's website and blog, on which helpful information is available. You may find the answers to some of your concerns there.
Other self-help options that the company offers include FAQs, guides, manuals and video tutorials, in addition to the customer forum where you can ask staff and other users about the things you don't know.
4. High-Class Security
The great security features on HostDime hosting are available at an additional cost. The DDoS protection is provided to all users. There are three different types of this feature, namely traffic scrubbing, NETSCOUT's mitigation, and cloud protection.
NETSCOUT's mitigation will filter unusually high traffic volumes from a limited set of sources and protocols, while cloud protection will monitor all websites in real time.
Customers can also buy an SSL certificate from HostDime. The main reason to install an SSL certificate is it gives your visitors a sense of security when accessing your website, knowing that it has been authenticated.
5. User-Friendly Dashboard
When you sign up with HostDime, you will get a simple and user-friendly cPanel that allows you to easily control every aspect of your hosting.
There is useful information you will find on the cPanel dashboard, including bandwidth usage stats, billing information, server performance, licenses management and affiliate program.

The Cons of HostDime Hosting
Like other hosting providers, HostDime also has its drawbacks. And what clearly unlikable is their strict refund policy. The truth is, you will hardly ever notice when the server falls short of the 99.99% uptime guarantee. No, it is near impossible.
1. HostDime VPS
There are two types of VPS – Traditional and Cloud – although they are similar, there is a significant difference in the way that each is managed.
The traditional VPS is hosted on a single server, and a cloud VPS is on multiple servers which allows high availability and maximum scalability.
VPS serve their purpose well, however they don't scale very well. The benefit of the cloud VPS is the infrastructure behind it allows scaling up or down to fit the needs of the customer.

2. Reliability of Cloud VPS
If a server fails, the benefit of cloud VPS is that the other servers within the infrastructure can share the load. With traditional VPS, if the server fails it causes downtime. Therefore for reliability, cloud is the preferred VPS due to its failover protection – your server is always online.
Conclusion
All things considered, HostDime is a good hosting. And yes, we do recommend it, especially to professional webmasters with multifaceted IT projects and large budgets. But if you are a beginner or someone who is running a startup, then this provider may not be right for you.
In the end, we need to say that HostDime is an excellent company that offers high-end hosting solutions to extraordinary users. So if you believe you are one of them, feel free to sign up with HostDime.